Brenda Novak's Auction
May 18th, 2013
---
Nightbound Is Here.
May 7th, 2013
Happy Book Day to my friend, Lynn Viehl. If you like vampires, no one does them better.
---
Diabetes Auction
April 13th, 2013
Brenda Novak's On-line Auction for Diabetes Research begins May 1st. You'll find gift baskets, books, designer bags, jewelry and once-in-a-lifetime experiences from your favorite authors. Please spread the word.
Here's a peek at the Magical Cats gift basket.
Thanks!
---
Happy Book Day, Laura Alden!
April 2nd, 2013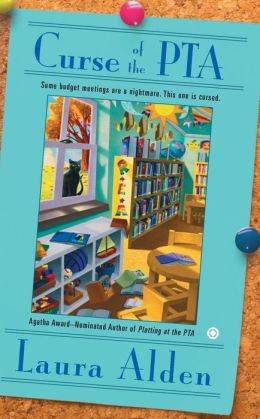 ---
Wisteria Hill Cats
March 27th, 2013
---
Curse of the PTA
March 22nd, 2013
   With the book sales from their Story Project, the PTA has come into some money. Now they just have to decide how to spend it. With different factions vying for their own interests, Beth brings in financial consultant Dennis Halpern. But before they can come to a resolve, Dennis comes to his final end—shot to death right in the school.
   With the doors to the building unlocked, virtually anyone could have done the deed. And they soon discover that Dennis had plenty of secrets. Now locals are whispering that the PTA is cursed, and it's up to Beth to catch the killer before she gets cashed out.
---
More ways to win.
March 19th, 2013
Visit Kings River Life magazine online by March 23 for your chance to win a copy of Cat Trick and 5 other great mysteries.
---
Chance to win!
March 15th, 2013
Visit Stop You're Killing Me before March 22 and you could win a copy of Cat Trick.
---
All I Need is Spring.
March 9th, 2013
---
---